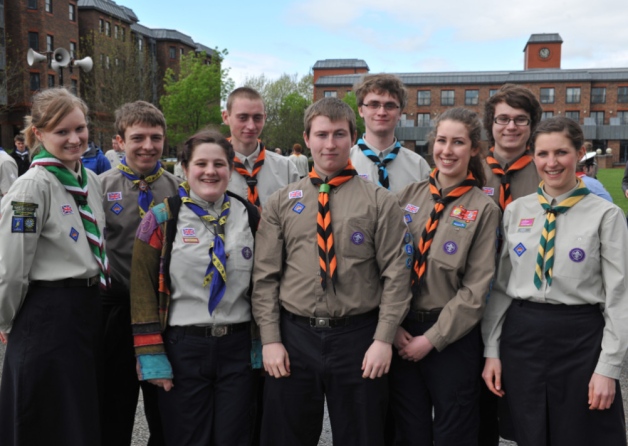 Searching through the internet one of our leaders spotted this on the  star's  website.
Nine South Yorkshire Scouts received the movement's highest award at an annual service at Windsor Castle.
Each of the group members received the Queen's Scout Award from the Duke of Kent and international adventurer and Chief Scout Bear Grylls.
Those honoured were Claire Dutson, aged 24, Caroline Bryce, 21, Rosie Strathearn-Brady and Matthew Moore, both 19, Thomas Yems and John Bell-Winfrow, both 18, and Peter Bacon, Charlotte Harold, and Daniel McVeigh, all 17.
They were invited to Windsor along with 600 other Queen's Scouts for the Annual National Scout Service and Parade.
The Queen's Scout Award is given, for outstanding personal achievement, to young people aged 16 to 25 who have completed a range of challenges.
They include service to the community, completing an expedition in wild country, undertaking a five-day residential project in an unfamiliar environment and learning a new skill or developing an existing talent.
Claire said: "Gaining my Queen's Scout Award has been awesome. One of the best things I have ever done in scouting was having a real adventure completing all the requirements of the award, which has been very rewarding."
Rotherham Scout leader Gary Bacon said: "Achieving your Queen's Scout Award and parading at Windsor is the pinnacle of scouting."
Bear Grylls added: "All these young people have lived the adventure of a lifetime to achieve their awards, and I admire that spirit so much.
"They are huge inspirations to all the other Scouts in the UK."
Source: http://www.thestar.co.uk/news/nine-proud-scouts-1-6587755